I first walked into 874 West on September 15, 2014.  This was the first day of my house search as a potential first-time homeowner.  874 West was the third stop of five houses that I planned to visit that day.  I never expected to find my new home on the first day of searching.  I've always heard that it people take months to find their perfect home.  Plus, I didn't know how I would know if I I found the perfect house to call home.  My family always said my gut would tell when I found the right house, but I never believed them.  My gut couldn't tell me which ice cream to pick from the store, so I could not image that same gut telling me which house I should purchase.  Plus, a house is a bigger and more expensive investment than any carton of ice cream.  After visiting the first two homes, my gut told me nothing and neither house inspired me.  The minute the real estate agent opened the front door to 874 West, I instantly knew this was the house for me.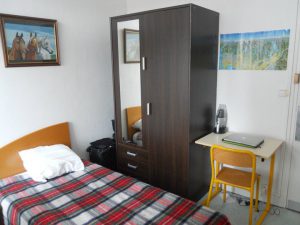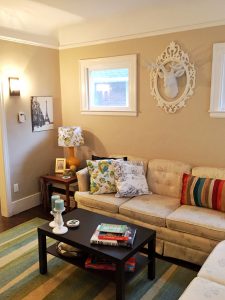 I never thought that I would own a home because I never wanted to own a home.  I always wanted to live in an apartment.  I had dreams of living in a big city far away from the Detroit area, where I grew up.  I always wanted the freedom to move around without a house tying me down.  I also wanted to live in a city where opportunities were always in reach.  After graduating college, I lived this dream.  I moved to France and back to the United States.  All the while, I bounced from apartment to apartment.  While I lived my dreams, no apartment ever felt like a real home.  I love designing spaces and making a room feel special.  In an apartment, this becomes challenging.  I could never paint my walls, so every place was defined by the lifeless white, beige or light gray walls.  I also did not want to purchase beautiful furniture.  I was always worried about the furniture fitting into my next apartment or damaging it during the moves.  None the less, I fulfilled my interior design urges with colorful pillows, textiles, colorful repurposed furniture, and lots of fun accessories.  Despite my efforts, my apartments never felt like a true home.  Once my latest lease was nearing an end and I secured a job in Detroit, I started to change my opinions on owning a home.  My family insisted it was a great investment but I I saw it as an opportunity to build a future in one place, express my interior design perspective, gain stability, and truly have a place to call home that represented my personality and style.
My only reference to buying a house was the hours of home shows I watched on HGTV.  All my friends were still renting apartment around the world, so they could not offer any advice.  As with any "House Hunter" looking for their "Love It" home, I put together this must-have list:
Older home with character – non-negotiable
Walkable community located close to Detroit – non-negotiable
Smaller home with larger living spaces and smaller bedrooms
Covered front porch – non-negotiable
Minimum 2 bedrooms
Air conditioning
Basement
Garage or shed
Looking back, I do not know exactly how I created and curated this must-have list.  I never thought about the basic luxuries or necessities such as a linen closet, kitchen outlets, newer windows, or modern electric.  None the less, this list was my north star during my home search.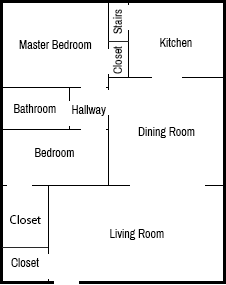 As I strolled through 874 West during the tour, I started to fall in love with the house.  874 West was built in 1920 just outside of Detroit. It is walking distance from a suburban downtown and a short drive to Downtown Detroit.  The house has a craftsman feel with a lot of original character including beautiful molding, large cased openings between rooms, and hardwood floors throughout.  The layout is my favorite aspect of the house.  The long and spacious living room and the large dining room helps distribute the space to the high traffic areas while clean sight lines from the living room, through the dining room to the kitchen, make the house feel open.  At 900 square feet, the house is smaller, but the layout and the large windows in every room help make the space feel larger than its actual size.  As with any house tour, there are always a couple initial red flags.  After any structural or major concerns were put to rest, I was left with the ascetic concerns that I could easily change.  My least favorite characteristics were 1) the high gloss yellow paint on almost every wall that changed colors with the light and shadows and 2) the plate rail in the dining room.  I hated both characteristics so much but, they could easily be changed with some paint and hard work.  The positives started to outweigh all the negatives.  I was truly smitten with 874 West and I wanted the freedom to design the inside to be my true fingerprint on interior design.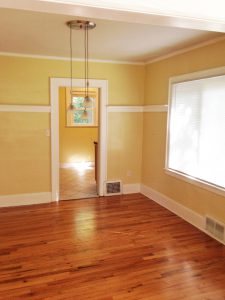 As I moved around the house, I started to visualize how I would decorate it.  The original character and floor plan inspired my internal interior designer.  I suddenly found myself determining the layout, design and feel of each room.  I knew where I would put the couch, dining table, bed, dresser, and every piece of furniture.  I could see how my personal style would fit and compliment the home.  I could see how the empty house could be transformed into my home.  As I left the house tour, my head was spinning with ideas.  I could see a crystal-clear vision of the final home design and I couldn't wait to start getting to work designing my own home.  I took these excited and creative feelings as my gut telling me that this was the house that I wanted to call home.  As I left, I knew I wanted to purchase 874 West.
The following Monday, I put in an offer to purchase 874 West.  The offer was accepted within days and I was catapulted into the house buying process.  I quickly started working with people at banks, title companies and home inspection offices to finalize the details.  As a first-time home buyer, this process was new and very confusing.  My aunt helped the entire time and without her, I would have been very lost in the process and paperwork.  I was very surprised how long the process took and how many people were involved in my house buying process.  But, soon enough, it was time to close on my first house purchase.
On October 24, 2014, I closed on 874 West and the house was officially mine.  I went from an apartment gypsy to an American proprietor and first-time homeowner.  As I signed the paper, I was nervous but had no regrets about purchasing a house or the house I was purchasing.  I was ready to jump into the world of home ownership and get started.  My head was still spinning with millions of ideas to turn this house into my home.  That night, my family brought pizza and we celebrated on the floor of the empty living and dining rooms.  In the morning, it was time to start moving into my first home and start the interior design process.