Hello!  Welcome To 874 West: Design Beyond The Address!
Design is not just about the décor and elements of an interior space, but the story it tells beyond the address.  Everywhere has an address and everywhere can be found somehow.  Whether it is a formal code or spoken instructions, I have always found my way to some beautiful and incredible interiors.  I believe that every place is not just defined by the address, but the choices people make to create a unique and beautiful space inside.  Interior design impacts the mood, conversations and experience behind the address.  It allows its visitors to immerse themselves in the experience.  It gives a reason to stay longer, come back, or share with others.  It influences us to type that address back into our map apps to return for another go around.  874 West will explore any interior space and its interior design beyond the address.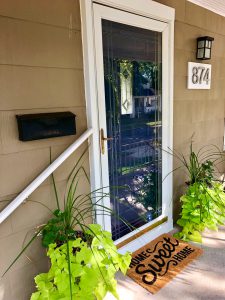 My first home purchase and where I currently live is located at 874 West, outside of Detroit, Michigan.  Once I received the keys to 874 West, I started my own adventure designing and building an inside that embodies my personal design, vibe and creative vision.  This is the space where I got to pick everything out myself, make mistakes, complete large renovations, do arts and crafts, and find my design voice.  This is where I found my freedom in design.  While I did not choose the address, I chose the interior design.  In crafting my home interior, I incorporated my favorite design inspirations, world travels, experiences, and personal passions to create my own beautiful space beyond the address and front door.  I will share my own design choices, home projects, and stories that make my interior space my home and a destination for friend gatherings, family dinners, movie nights and home base for life.
874 West is my place to dive deeper into the interior design of a space beyond the address.  874 West is where I can share my stories and interior design thoughts.  Whether it is at my home address or the design inspirations inside my favorite addresses, I will explore the inside view behind the street view.  I will share attention grabbing restaurants, hotels and spaces that make me want to go back and spend more time immersed in these interior environments.  Plus, I will share my experiences and stories designing my own home.  874 West is a look past the front door and inside the choices and design that lures me into a space and makes me want to stay and enjoy every second.